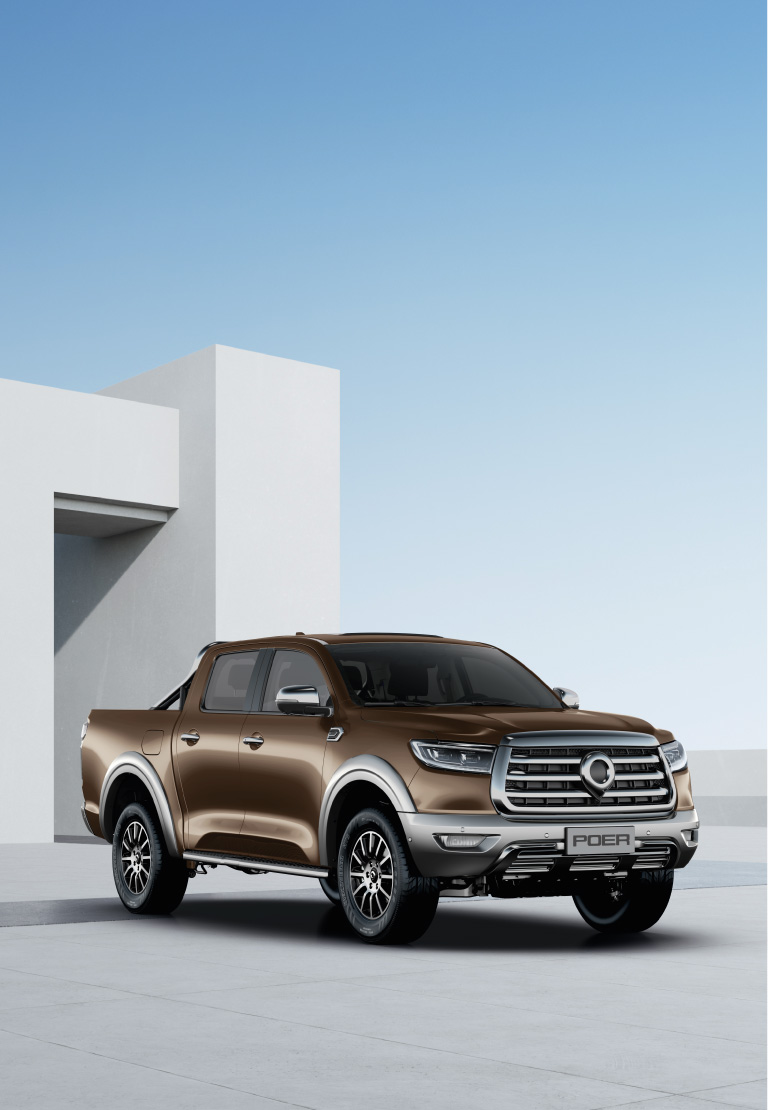 POER
Year: 2023
Length X Width X Height (mm): 5410 x 1934 x 1886
Cylinders/Valves: 4/16
Capacity: 1,996 cc
Bodystyle / Doors: Pickup Truck
Transmission: 8AT
Horsepower: 194 hp
Drive: 4WD
Maximum torque (N.m): 365
Starting Price: KWD 6,999
Offer: 5 years warranty
Styling
---
Smart Styling
Two styling for your choice. One version is featured by hawk-eye headlamps and nebula grill for stylish looking while the other version uses bold chromed grill to build muscular vehicle body lines.
Intelligence Powered Headlamps
LED headlamp light sources, demonstrating the sense of technology with multiple auxiliary lighting devices while improving the driving safety at the same time.
Power
---
Petrol 2.0T 4-Cylinder Engine
Maximum power: 194 hp/4000-5500 (r/min); Maximum torque: 365 N·m/1800-3600 (r/min).
ZF-8AT Transmission
Pioneer in equipping the class leading ZF-8AT transmission for more reliable performance,smoother gear shifting and high responsiveness.
High-strength Cage-type Vehicle Body
Armour Protection: High tensil steel body +door impact beam and double frontal impact absorption structure.
High Strength Ladder Frame
The high strength steel is adpoted extensively as 83.9%.
Performance
Intelligent 2WD/4WD switch, enabling superior vehicle performance and even better anti-skidding capability.
Comfort Cabin and Driving Dynamics
---
SUV-like Comfort Cabin
3230mm wheelbase and good SUV-like comfort cabin, class-unique slush moulding tech,SUV-like quiet cabin,providing excellent driving and riding experience.
6-way Power Adjustment
The driver's seat is adjustable in 6 directions and the front passenger's seat is adjustable in 4 direction, improving the driving and riding comfort.
Smart Connectivity
---
Smart Voice Control+Carplay
Class leading language recognition and activation including Australian English supported ; It supports CarPlay, and class leading wireless charging.
L2 Autonomous Driving
Adaptive cruise control (ACC), automatic emergency brake (AEB), lane keeping aid, traffic sign recognition, all-round blindspot monitoring.
Safety
---
The latest Generation 9.3 Bosch ESP System
The latest Bosch Generation 9.3 ESP system, emergency brake assist (HBA), traction control system (TCS), hill-start assist control (HAC), reversing camera, reversing radar, the kerbside visibility, tire pressure monitoring.
Gallery
---